Should You Pressure Wash Your Home?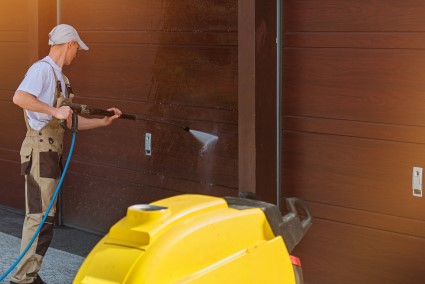 You want to take the best care possible of your Indianapolis home, it comes with the territory of being a homeowner. A task that commonly gets overlooked is the need to extensively clean the outside of your house.
Power washing is an effective way to complete this task, although some people think it can pose a threat to the exterior of your home. The key is to work with a reputable pro who knows the correct methods to use to safely carry out pressure washing.
As long as you are letting a true pro handle the job, some of the benefits that you can expect include:
Obviously, anytime you clean something it enhances the appearance. Following your pressure washing service, your home will look sparkly clean.
If you are planning on painting your exterior, this is the first step. You cannot apply paint to a surface until it has first been made free of dirt, dust and other debris.
The contaminants sticking to the outside of your home can make their way indoors. That means pollutants like mold spores can get carried in leading to problems inside the home. This is especially true if anyone in your household suffers from asthma, allergies or any other respiratory-related health issue.
Believe it or not, this can impact the property value of your home. A house being listed for sale that has recently been power washed can expect to list for a great deal more, as any listing agent will tell you.
Ready to get your home's exterior spotless with a good pressure wash? Since 1959, Country Painting has been the family owned and operated company that locals have entrusted for this type of work. You deserve service excellence and we are just the team to deliver it.
If you are looking for a professional painting contractor in the Indianapolis area, please call 317-540-3728 or complete our
Need Help With Your Vision?
Capture color inspiration whenever—and wherever—it strikes. With ColorSnap® Visualizer from Sherwin-Williams, you have the power to take real-world colors and turn them into paint-color swatches—all on your smartphone.
What Our Clients Have To Say
The customer service that Jack provided was top notch! They were in quiet, updated,asked for imput & completed in timely fashion, cleaned up. I'm very pleased & would recommend!!![...]
Christy A. in Fishers, IN
Read More
I got three estimates out of 15 fliers we received in the mail. Country Painting was a bit more expense but the quality of the work, the dedication to finishing in the time frame promised, the friendliness of the crew, and t he result was well worth the money. They were the only estimate wanting to put two coats of paint on my house exterior and they replaced wood siding where needed whereas the other estimates wanted me to buy the wood needed and hire a sub contracted through them to do the work. Owen and Mike Riley are great to work with, professional, and trustworthy. The crew chief, Dennis, was on top of the entire project. I would recommend them for any painting project since the business was started by the grandfather in 1959 and now is run by the third generation of Riley's.[...]
Jim M. in Indianapolis, IN
Read More
Mike was a pleasure to work with. The team did a great job from start to finish. They came in at a great price as well. I would highly recommend them to others.[...]
Al F. in Fishers, IN
Read More
Mike Riley kept in touch with me throughout the process. Very professional and efficient. Dealing with Spring rain played havoc on their scheduling, but they were able to meet my needs and get the job done well.[...]
Mj K. in Indianapolis, IN
Read More