Wood Repairs in the Indianapolis Area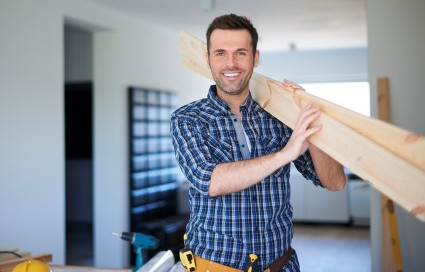 Since 1959, Country Painting has been taking care of the service needs of locals, like wood repairs. We are a family owned and operated business dedicated to providing service excellence for every job we do.
Incorporating wood into the design of your home makes sense, it enhances both the beauty and the value. However, wood left in a state of disrepair can have quite the opposite effect.
Some things to keep in mind when it comes to this type of repair:
The sooner the better! The longer you wait to address the need for wood repairs, the more likely you are to end up with the need for replacement.
Obviously, taking care of minor repairs is much more cost-effective when compared to major repairs or replacement.
Maintaining the integrity of your wood elements helps to uphold the value of your house.
The bottom line is that high-quality repairs for your wood framing, floors and other components help ensure peak performance and optimal longevity.
Recent Articles
4 Reasons That Make Fall The Prime Time For Exterior Painting
ith summer coming to a close, many homeowners think it's too late to make upgrades to your Indianapolis home, but fall can actually the prime time for exterior painting. […]
Improve Your Workplace With Office Painting
Your business could benefit from a fresh coat of paint, so hiring a painter for office painting services is an excellent decision. […]
If you are looking for professional wood repair company in Indianapolis, please call 317-540-3728 or complete our
Need Help With Your Vision?
Capture color inspiration whenever—and wherever—it strikes. With ColorSnap® Visualizer from Sherwin-Williams, you have the power to take real-world colors and turn them into paint-color swatches—all on your smartphone.
What Our Clients Have To Say
The customer service that Jack provided was top notch! They were in quiet, updated,asked for imput & completed in timely fashion, cleaned up. I'm very pleased & would recommend!!![...]
Christy A. in Fishers, IN
Read More
I got three estimates out of 15 fliers we received in the mail. Country Painting was a bit more expense but the quality of the work, the dedication to finishing in the time frame promised, the friendliness of the crew, and t he result was well worth the money. They were the only estimate wanting to put two coats of paint on my house exterior and they replaced wood siding where needed whereas the other estimates wanted me to buy the wood needed and hire a sub contracted through them to do the work. Owen and Mike Riley are great to work with, professional, and trustworthy. The crew chief, Dennis, was on top of the entire project. I would recommend them for any painting project since the business was started by the grandfather in 1959 and now is run by the third generation of Riley's.[...]
Jim M. in Indianapolis, IN
Read More
Mike was a pleasure to work with. The team did a great job from start to finish. They came in at a great price as well. I would highly recommend them to others.[...]
Al F. in Fishers, IN
Read More
Mike Riley kept in touch with me throughout the process. Very professional and efficient. Dealing with Spring rain played havoc on their scheduling, but they were able to meet my needs and get the job done well.[...]
Mj K. in Indianapolis, IN
Read More