Is Pressure Washing Before Selling A Home Important?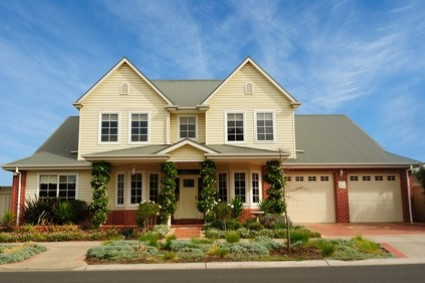 There are many reasons someone may decide to sell their home. It could be for relocation for a new job or something as simple as needing more space as the dynamics of the family grow.
There are a lot of things that you have to do first, in order to prepare your home to sell but is pressure washing really one of them? Does it make that big a difference?
The answer is yes, you need to hire a professional painting company to take care of power washing for you. If you're not already aware of why this is a good idea, let us help you understand what makes this so beneficial.
How Pressure Washing Helps Sell Your Indianapolis House
You want people to appreciate what makes your house so special and why they should want to call it Home Sweet Home. First, you have to lure them in and that can only happen if you have a clean exterior.
We can't stress enough the importance of curb appeal. This is how you make a good first impression and that's the only way to attract potential buyers.
You want to be able to sell your home quickly. Homes with a clean exterior and lots of curb appeal will always sell faster. Buyers are looking for home they can literally move into without projects to take care of first, such as cleaning the exterior.
You can also increase the asking price following a professional pressure washing. You can literally increase the asking price by as much as $15,000 if your home has been recently power washed. That's a lot of return for a minimal investment.
Don't forget the importance of having the roof in good condition. Black streaks are actually algae feeding off the asphalt granules, slowly destroying your rooftop and you need to fix that before listing your home.
For the best work from a Indianapolis painting company including pressure washing, call the Country Painting team.
If you are looking for a professional pressure washing company in the Indianapolis area please call 317-540-3728 or complete our
Need Help With Your Vision?
Capture color inspiration whenever—and wherever—it strikes. With ColorSnap® Visualizer from Sherwin-Williams, you have the power to take real-world colors and turn them into paint-color swatches—all on your smartphone.
What Our Clients Have To Say
The customer service that Jack provided was top notch! They were in quiet, updated,asked for imput & completed in timely fashion, cleaned up. I'm very pleased & would recommend!!![...]
Christy A. in Fishers, IN
Read More
I got three estimates out of 15 fliers we received in the mail. Country Painting was a bit more expense but the quality of the work, the dedication to finishing in the time frame promised, the friendliness of the crew, and t he result was well worth the money. They were the only estimate wanting to put two coats of paint on my house exterior and they replaced wood siding where needed whereas the other estimates wanted me to buy the wood needed and hire a sub contracted through them to do the work. Owen and Mike Riley are great to work with, professional, and trustworthy. The crew chief, Dennis, was on top of the entire project. I would recommend them for any painting project since the business was started by the grandfather in 1959 and now is run by the third generation of Riley's.[...]
Jim M. in Indianapolis, IN
Read More
Mike was a pleasure to work with. The team did a great job from start to finish. They came in at a great price as well. I would highly recommend them to others.[...]
Al F. in Fishers, IN
Read More
Mike Riley kept in touch with me throughout the process. Very professional and efficient. Dealing with Spring rain played havoc on their scheduling, but they were able to meet my needs and get the job done well.[...]
Mj K. in Indianapolis, IN
Read More