4 Interior Painting Tips: Is Black The New White?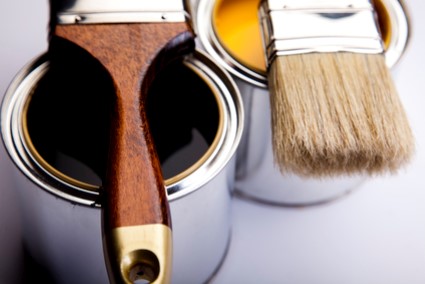 Recently, the trend of using black as an interior paint color inside the home began to catch on like wildfire. For so long, using black for interior walls was taboo; black was more of an accent piece color if used at all inside the home.
The one exception was interior design styles that were going for the classic but modern black and white look. Yet, these days, everywhere you look, black is covering walls and becoming the new basic neutral shade that is anything but basic.
What You Need to Know
Since black went from being completely unheard of for interior walls to the next biggest thing, there is very little information about how to use it or what not to do. Here are a few basic pointers to keep you on track:
Not all black paints are the same. Aside from the obvious difference in sheen, you can also get slight shade variances. For instance, there is a big difference between an earthy slate and something closer to dark navy blue. Explore the realm of options before settling on one.
The color black absorbs light so it is a good idea to use it in a space that has plenty of natural light if you are using it as the main color. Also, this color makes a room feel smaller so make sure the area you select for this paint is a suitable size to accommodate that.
In order to avoid the atmosphere from feeling too morbid, use lighter contrast colors. No, it doesn't have to be the standard white usually used. Consider pale pink, soft yellow or khaki but plan on including a secondary paint or accent color to help balance things out.
Not ready to make the plunge? If you are not sure you want all four walls black, consider using an accent wall, trim, ceiling or even a door. You can still introduce more black with décor and fixtures but you will not have to commit to painting all your walls that dark a hue.
For expert advice, and equally as adept workmanship, contact Country Painting. We care about our customers which is why we make it a point to offer essential consultation services prior to starting the work.
If you are looking for a professional interior painting contractor in the Indianapolis area, please call 317-540-3728 or complete our
Need Help With Your Vision?
Capture color inspiration whenever—and wherever—it strikes. With ColorSnap® Visualizer from Sherwin-Williams, you have the power to take real-world colors and turn them into paint-color swatches—all on your smartphone.
What Our Clients Have To Say
The customer service that Jack provided was top notch! They were in quiet, updated,asked for imput & completed in timely fashion, cleaned up. I'm very pleased & would recommend!!![...]
Christy A. in Fishers, IN
Read More
I got three estimates out of 15 fliers we received in the mail. Country Painting was a bit more expense but the quality of the work, the dedication to finishing in the time frame promised, the friendliness of the crew, and t he result was well worth the money. They were the only estimate wanting to put two coats of paint on my house exterior and they replaced wood siding where needed whereas the other estimates wanted me to buy the wood needed and hire a sub contracted through them to do the work. Owen and Mike Riley are great to work with, professional, and trustworthy. The crew chief, Dennis, was on top of the entire project. I would recommend them for any painting project since the business was started by the grandfather in 1959 and now is run by the third generation of Riley's.[...]
Jim M. in Indianapolis, IN
Read More
Mike was a pleasure to work with. The team did a great job from start to finish. They came in at a great price as well. I would highly recommend them to others.[...]
Al F. in Fishers, IN
Read More
Mike Riley kept in touch with me throughout the process. Very professional and efficient. Dealing with Spring rain played havoc on their scheduling, but they were able to meet my needs and get the job done well.[...]
Mj K. in Indianapolis, IN
Read More