Benefits of Rain Gutter Protection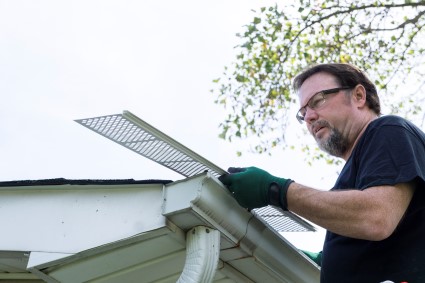 What does a painting company know about rain gutter protection? Plenty, from both a professional and a personal perspective.
Anyone who has ever spent any time cleaning out their gutters knows how messy and disgusting a job that can be. Not to mention, it means putting your safety at risk while balancing on a ladder trying to unstick clogs of leaves and other organic debris.
It's one of the best reasons to secure your gutters with a gutter guard system. Yet, there are many selling points for rain gutter protection, so it's time for you to stop missing out.
What Gutter Guards Can do For You
You won't believe the difference you'll notice once you have your rain gutter protection installed; it's night and day. In order to help gauge why you need this for your home, here are some advantages you should be aware of:
Stop ending up with clogs that cause all sorts of other problems. Blockages in your gutter eventually lead to issues like rot and the need for wood repair. Why not avoid this altogether by helping your gutters by enhancing their performance capabilities??
These guards help reduce the need for maintenance, including cleaning. It doesn't mean you can avoid maintenance and cleaning altogether, but you'll seriously reduce the amount of care that needs to be involved.
Soggy leaves lead to plenty of problems, one of the biggest being corrosion. Rust in your gutter is never something to ignore. It quickly spreads and leads to the need for significant repairs or entirely replacing the system. The worst part is that you may not notice the corrosion process has begun until it has wreaked havoc on your gutter system.
Clogs cause water to get stuck, and this is stagnant water, the ideal breeding ground for pests like mosquitoes. Other pests use the part of the gutter that's dry because part of the system is blocked. Whichever type you end up with, you can expect an infestation to occur.
Gutter guards also keep things flowing, so you don't end up with ice. The last thing that you need is to have ice dams form in your gutters. Among other problems, it can weigh down your gutters and cause them to pull away from your roofline.
All Pros & No Cons
What are you waiting for? Before winter is in full swing, it's the ideal time for installation.
Country Painting is just the company to choose because we're more than just a favorite local painting company. We also offer the best in services like gutter protection.
Call us today and find out how this Indianapolis painting contractor delivers superior quality for every service we offer.
If you are looking for gutter guards please call 317-540-3728 or complete our
Need Help With Your Vision?
Capture color inspiration whenever—and wherever—it strikes. With ColorSnap® Visualizer from Sherwin-Williams, you have the power to take real-world colors and turn them into paint-color swatches—all on your smartphone.
What Our Clients Have To Say
The customer service that Jack provided was top notch! They were in quiet, updated,asked for imput & completed in timely fashion, cleaned up. I'm very pleased & would recommend!!![...]
Christy A. in Fishers, IN
Read More
I got three estimates out of 15 fliers we received in the mail. Country Painting was a bit more expense but the quality of the work, the dedication to finishing in the time frame promised, the friendliness of the crew, and t he result was well worth the money. They were the only estimate wanting to put two coats of paint on my house exterior and they replaced wood siding where needed whereas the other estimates wanted me to buy the wood needed and hire a sub contracted through them to do the work. Owen and Mike Riley are great to work with, professional, and trustworthy. The crew chief, Dennis, was on top of the entire project. I would recommend them for any painting project since the business was started by the grandfather in 1959 and now is run by the third generation of Riley's.[...]
Jim M. in Indianapolis, IN
Read More
Mike was a pleasure to work with. The team did a great job from start to finish. They came in at a great price as well. I would highly recommend them to others.[...]
Al F. in Fishers, IN
Read More
Mike Riley kept in touch with me throughout the process. Very professional and efficient. Dealing with Spring rain played havoc on their scheduling, but they were able to meet my needs and get the job done well.[...]
Mj K. in Indianapolis, IN
Read More