3 Key Benefits Of Gutter Guards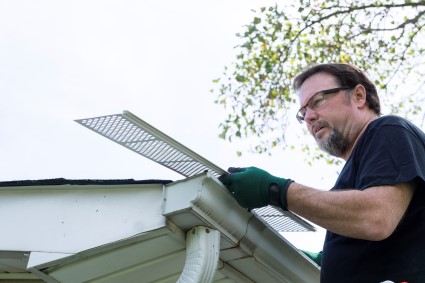 Whether you realize it or not, your gutters are an absolutely essential part of your roofing system and play a major role in helping to protect your home from damage. The one common issue that most homeowners experience with their gutters, however, are clogs. With that being said, however, gutter guards are becoming more and more popular among homeowners all over the country in recent years, and for good reason. To help highlight just a few of the benefits that come along with installing gutter guards to help protect your home's gutter system, our team of professional Indianapolis painting contractors have taken the time to put together this short list that we hope you will read through and enjoy.
Prevent Gutter Clogs
First and foremost, one of the most important benefits of gutter guards is the major help they can provide in working to prevent gutter clogs in their entirety. Gutter clogs generally arise because larger debris and leaves find their way into your gutter system and just can't be dislodged properly. With gutter guards, however, all of this larger debris can be effectively filtered out, letting your gutters do their jobs properly without having to worry about becoming clogged with various leaves and other falling debris.
Gutter Maintenance Becomes Easier
Without gutter guards, you are generally encouraged to clean your gutters out at least twice per year, once in the spring and once in the fall. With gutter guards, however, your gutters will require cleaning much less often, and the cleaning tends to be easier as you aren't generally going to have to go digging through your gutters in order to dislodge everything there.
Gutter Guards Help Prevent Freezing
One common concern during the winter months is that if any water is trapped in your gutters by debris clogs it has the potential to freeze, forming ice dams that can be extremely damaging to your home. Since gutter guards are able to successfully filter out much of the debris that leads to these clogs, you generally won't have to worry about water becoming trapped in your gutters during the winter months and freezing, leading to ice dams.
If you are looking for gutter guards then please call 317-540-3728 or complete our
Need Help With Your Vision?
Capture color inspiration whenever—and wherever—it strikes. With ColorSnap® Visualizer from Sherwin-Williams, you have the power to take real-world colors and turn them into paint-color swatches—all on your smartphone.
What Our Clients Have To Say
The customer service that Jack provided was top notch! They were in quiet, updated,asked for imput & completed in timely fashion, cleaned up. I'm very pleased & would recommend!!![...]
Christy A. in Fishers, IN
Read More
I got three estimates out of 15 fliers we received in the mail. Country Painting was a bit more expense but the quality of the work, the dedication to finishing in the time frame promised, the friendliness of the crew, and t he result was well worth the money. They were the only estimate wanting to put two coats of paint on my house exterior and they replaced wood siding where needed whereas the other estimates wanted me to buy the wood needed and hire a sub contracted through them to do the work. Owen and Mike Riley are great to work with, professional, and trustworthy. The crew chief, Dennis, was on top of the entire project. I would recommend them for any painting project since the business was started by the grandfather in 1959 and now is run by the third generation of Riley's.[...]
Jim M. in Indianapolis, IN
Read More
Mike was a pleasure to work with. The team did a great job from start to finish. They came in at a great price as well. I would highly recommend them to others.[...]
Al F. in Fishers, IN
Read More
Mike Riley kept in touch with me throughout the process. Very professional and efficient. Dealing with Spring rain played havoc on their scheduling, but they were able to meet my needs and get the job done well.[...]
Mj K. in Indianapolis, IN
Read More